GROW GROUPS: "GROWING IN CHRIST"
Jesus said in Matthew 11:29, "Take my yoke upon you and learn from me, for I am gentle and humble in heart, and you will find rest for your souls."

Learning about Christ and about His will for our lives is a key component of "growing in God" and small group life at CLA. It is vital as Christians to discover the balance between owning the responsibility to grow and trusting in the help and power of the Holy Spirit to bring about Christ-like character in us.

Below are the following classes and education programs at CLA:
A Study On The Book Of James | Biblical Wisdom For Everyday Life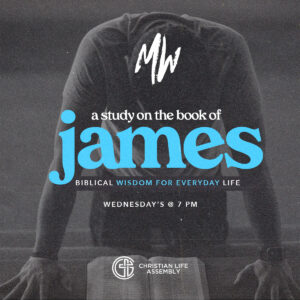 Wednesday, September 16 - October 7 | 7 PM | In Person in the Sanctuary or CLA Live
Come and join us for a midweek break with a refreshing study of the Word of God. This systematic and biblical teaching will walk you through the book of James as we gain godly wisdom for everyday life. Detailed message notes can be found each week in our church app. We also have two options for you to learn with us! Join in-person in the sanctuary or CLA Live from your home. Come and grow with us!
A Study On Understanding & Practicing Your Spiritual Gifts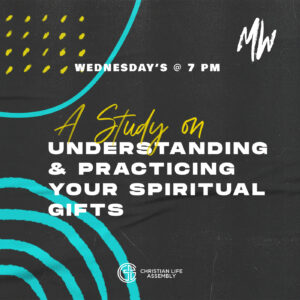 Wednesday, October 21 - November 18 | 7 PM | In Person in the Sanctuary or CLA Live
This systematic Bible study will take a close look at what are spiritual gifts and divided into five sessions.
Session One: Introduction
Session Two: Wisdom, Knowledge and Discernment
Session Three: Faith and Healings
Session Four: Miracles and Discernment
Session Five: Prophecy, Tongues & Interpretation.
Detailed message notes can be found each week in our church app. We also have two options for you to learn with us! Join in-person in the sanctuary or CLA Live from your home. Come and grow with us!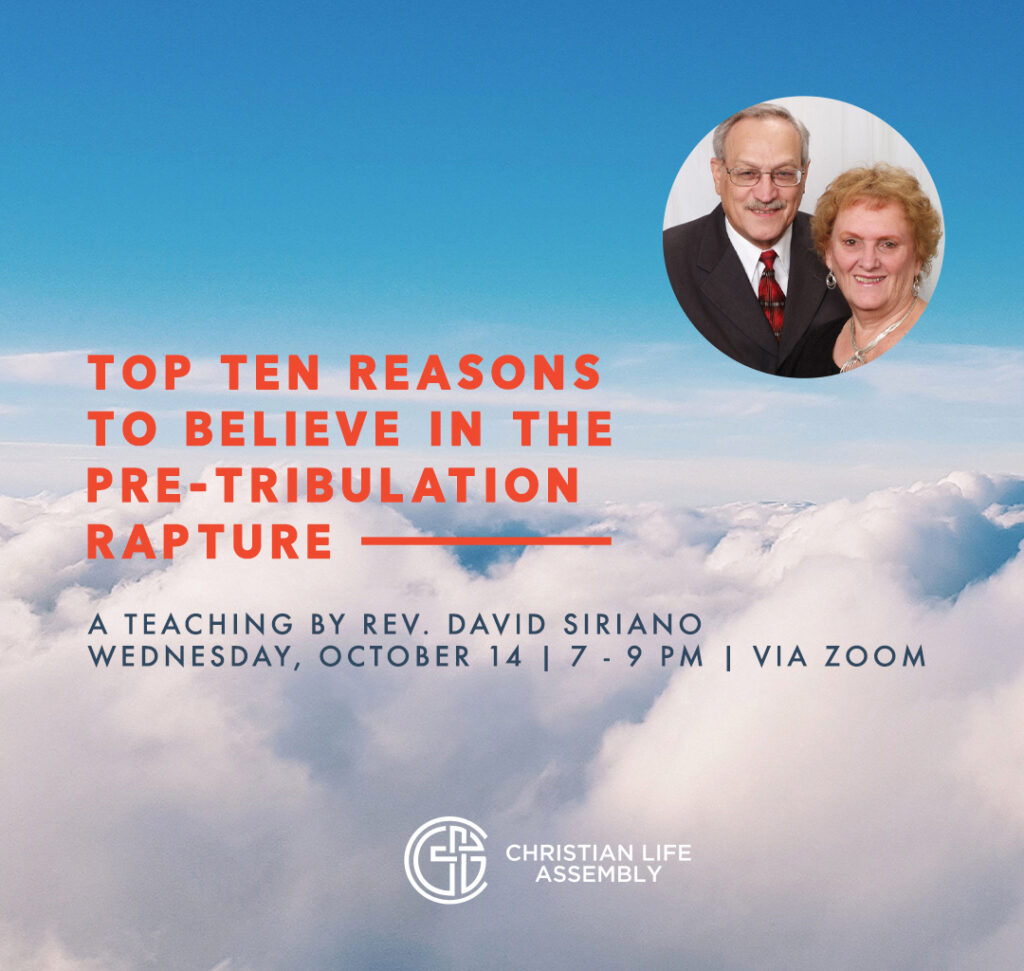 Top Ten Reasons To Believe In The Pre-Tribulation Rapture
A teaching by Rev. David Siriano
Wednesday, October 14 | 7 - 9 PM | Via Zoom
We will take a break from our normal Midweek studies and be blessed by Bible and Eschatology teacher Rev. David Siriano. Pastor David will connect the current state of affairs of our nation and world to Bible prophecy and focus on the top ten reasons to believe in the Rapture. There will be a time of questions and answers at the end of the teaching. Invite a friend or family member. This class will be offered via Zoom. Please register to get the Zoom link.
More About Pastor David:
David Siriano is a 1963 graduate of Zion (Northpoint) Bible College in Haverhill, MA and has his degree in Bible. He served as a Pastor in the New England States and New York for 45 years until 2008. No longer Pastoring, he is now available to travel and conduct End Times prophecy seminars nationwide. Throughout his ministry, he has had an avid interest in Eschatology, the study of End Time events. He has devoted much of the past 45 years studying and teaching on that subject. As a social eschatologist, he has conducted numerous seminars in the states of New York, Massachusetts, Connecticut, Rhode Island, Maine, Vermont, New Hampshire, Pennsylvania, Maryland, Florida and throughout the east coast on the End-Times message of the Bible and how it relates to the news events of today. He specializes in the Biblical Apocalyptic books of Daniel and Revelation, the Old Testament Tabernacle, and the Major and Minor Prophets. He has taught at the New York District School of Ministry, as college guest lecturer and teacher at Northpoint Bible College in Haverhill, MA, and at Crossroads Cathedral International Bible Institute in East Hartford, CT. He and his wife Elsa May, reside in West Henrietta, NY. They have two children David and Darla who are involved in Christian ministry: David at The Church of North Orlando in Florida and Darla at Faith Temple in Rochester, NY. They have eight grandchildren, Karina Nicole, Andrea, Karina Lynn, Katie, Tyler, Alyssa, Kaci, and Colin.
Class Outline:
The Bible says that the Lord's coming is a two-fold blessing as in the Rapture and Second Coming, like the former and latter rain during harvest. James 5:7-8
A time of Tribulation indicated in Daniel 9:26-27 was originally designed for the nation of Israel, not the Church. (Read Deuteronomy 4:29-31 and Daniel 12:1).
Michael, the great angelic prince fights against the Devil over a woman in whom many designate as Israel in Revelation 12:1-17 showing that Israel is in the Tribulation(Michael is the angel that is forever assigned to defend Israel – Daniel 12:1).
The 144,000 servants of God in Revelation 7:1-8 are Jewish believers who during the Tribulation speak about Jesus and the coming Millennial Kingdom to Israel.
One of the two witnesses in Revelation 11:3-14 is depicted as Elijah that comes back to earth (Malachi 4:4-6) to witness to Israel.
God's plan for the Jews is clear in the book of Romans. God offers Salvation to any in Israel who believes, or they may go through Tribulation, and then He establishes them in Glory, Honor, and Peace during the Millennium.
There are times in Scripture when God has protected His people before judgment fell. God can Rapture the Church before the horrors of the Great Tribulation.
Believers are promised deliverance from Tribulation.
Scriptures urge an attitude of constant expectation of Christ's coming.
The Church, wearing white garments at the Marriage Supper (Revelation 19:7-9) is seen returning dressed in those same white garments when Christ returns to the earth (Revelation 19:14).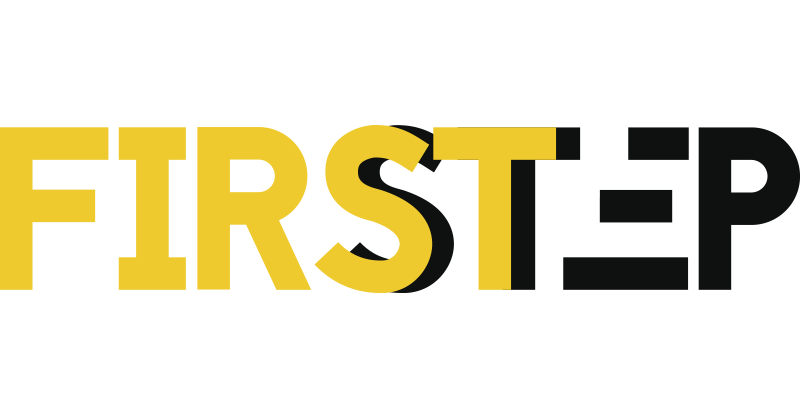 1st & 3rd Tuesdays at 6:30 PM | Fellowship Hall
(Starting October 6, 20, November 3, November 17)
First Step is a ministry dedicated to helping new believers take their first steps in developing an intimate relationship with God. Topics covered in these classes range from developing intimacy with God, getting to know Jesus, following Jesus, the importance of water baptism, the assurance of salvation, etc...
---

DISCOVER 101
Thursday, October 8 & 22 | 6:30 - 8:00 PM | Via Zoom
Discover 101 is our membership class. You will discover our story, our mission, our vision, our CORE values, our ministry plan and the pathway to membership at CLA. This class will challenge and inspire you on your spiritual journey! This class will be offered via Zoom. Please register to get the Zoom link.
---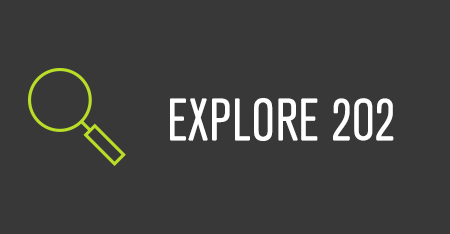 EXPLORE 202
Is not offered at this time.
Explore 202 is our biblical core doctrine class. You will explore key biblical and fundamental doctrines and spiritual practices that are central to our faith as Christians on an everyday basis such as Bible reading, prayer, the Holy Spirit's gifts and empowerment in our lives as believers, etc… Don't miss this inspiring class!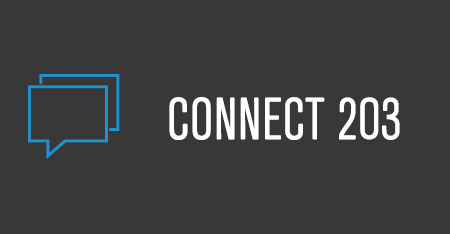 CONNECT 203
Is not offered at this time.
Connect 203 is our spiritual gifts class. This is a two session workshop. You will learn how to connect to the body of Christ by using your God-given gifts and passions. At the end of the class, we will work with you on a one-on-one basis in placing you into ministry. A continental breakfast will be served.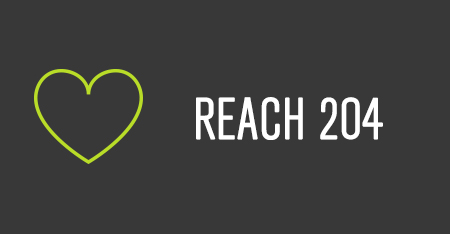 REACH 204
Tuesday, November 10 & 24 | 6:30 - 8:00 PM | Via Zoom
Reach 204 is our relational evangelism class. You will learn how to effectively reach your family and friends through the different methods of evangelism (i.e. telling your story, being relational, giving a verbal witness, etc…) Be empowered to REACH others for Christ! This class will be offered via Zoom. Please register to get the Zoom link.
---
Developing the Leaders Around You
---
A Leadership Module by Eran Holt
Saturday, October 17 | 8:30 AM - Noon | Fellowship Hall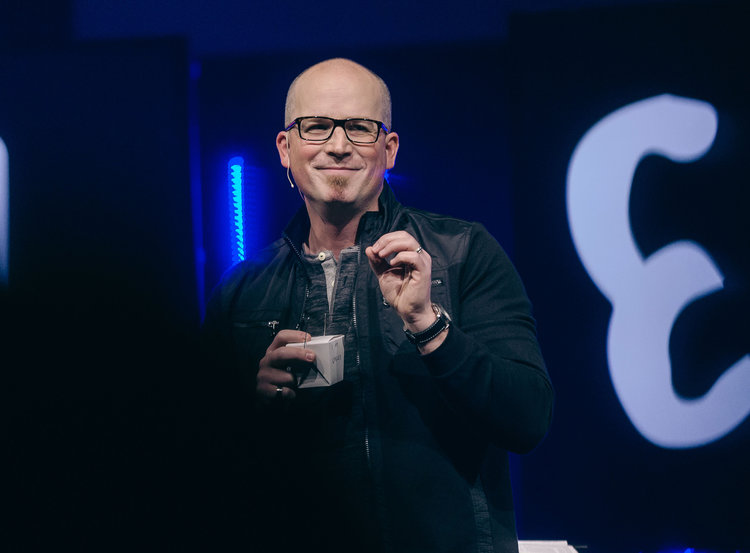 If you are a leader at CLA, desire to be a leader or you just want to know more about leading well in your circle of influence, please join us for this leadership module by Eran Holt. Eran is a John Maxwell Team Certified Member trained in Coaching, Public Speaking and Leadership Development using a variety of John Maxwell Leadership Resources. A continental breakfast will be served. Registration is required.
More About Eran:
Eran and his wife Julie and their three children, Caleb, Emma, and Ellie currently reside in Poconos, PA. Eran has over 20 years of Student Ministry experience having most recently served as the Student Ministries Pastor at GT Church, Reading, PA for over 15 years. During their tenure, the student ministry grew from roughly 30 students to over 400. Eran's passionate, creative and relevant preaching has distinguished him as a prophetic voice and communicator. He speaks at various churches, camps, retreats, conventions and conferences.
Eran's passion is to inspire adults to become spiritual fathers and mothers who will raise up an army of students to lead their generation. In 2016 Eran and Julie founded Lead The Generation, a non-profit ministry providing training and inspiration for youth pastors, volunteer youth leaders and student leaders. Eran equips Youth Pastors from all over the nation through his Coaching program called Mastermind.
At CLA, we hold leaders to a higher standard. Biblical leadership is the task of leading God's people into mutual ministry with one another for the purpose of building up the body of Christ and reaching out to the world (Eph. 4:11-13; Matt. 28:18-20). In order to accomplish this task, leaders need to:
Establish a growing and maturing relationship with the Lord. (John 15:5)
Sense a calling or passion from the Lord to lead people. (Ex. 3:1-10; John 21:15-17)
Have a vision for building up future leaders. (2 Tim. 2:2)
How do I become a leader at CLA?
How do I become a deacon at CLA?
Below is a chart to help layout the leadership path at CLA.
Step 1: Become a Member
• Be a Relational Witness
• Believe & Be Baptized.
• Belong to a Small Group.
• Begin to Volunteer.
• Begin to Give.
• Become a Member.
Step 2: Become a Leader
• Become a Member.
• Serve for Six Months Prior to Leading.
Step 3: Become a Deacon
• Discover 101
• Explore 202
• Connect 203
• Reach 204
• Spiritual Gifts 205
• Holy Spirit In You 301
• Counseling 302
• Ethics of a Leader 303